What is HubSpot API Integration?
HubSpot is a robust CRM platform with several tools and integrations that you can use for your sales, content management, customer service management and marketing needs. While HubSpot has nearly everything you need, it doesn't offer everything you need to run your business. Chances are you have a number of standalone software solutions used for ERP, accounting, project management or invoicing to fill the gaps.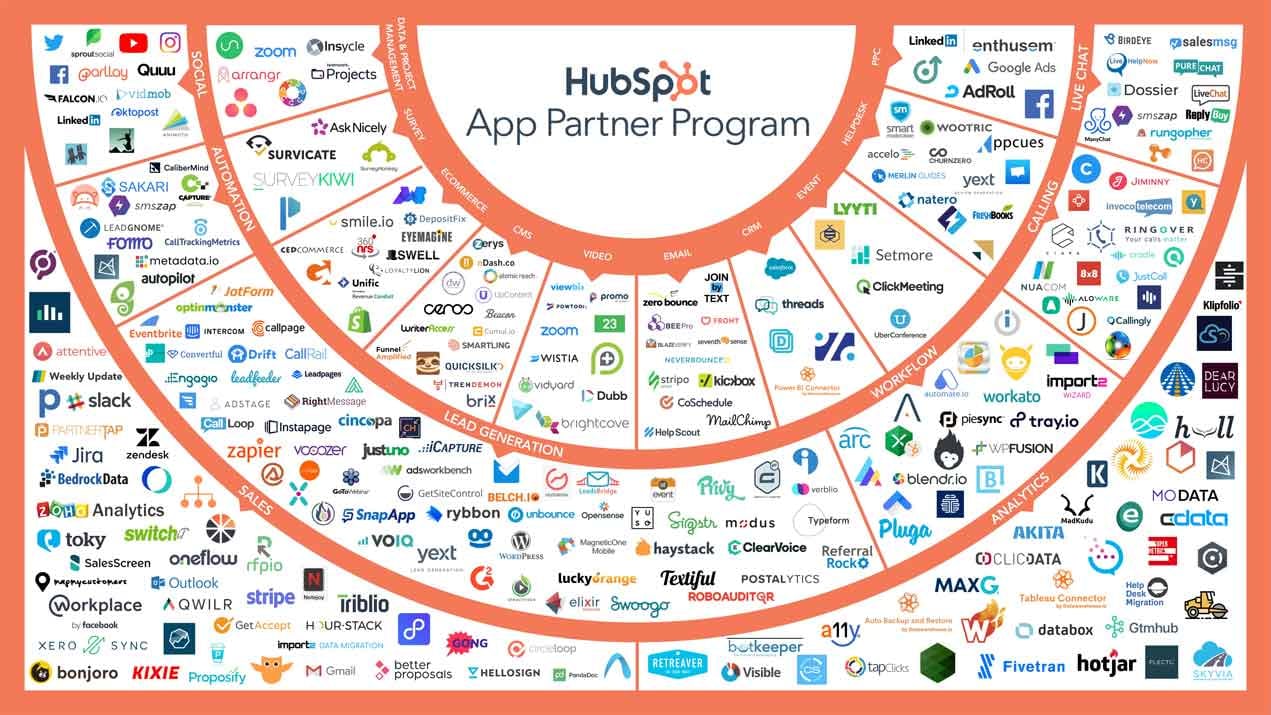 Working in a disparate system isn't ideal. Sharing information and communication between marketing and sales teams can become challenging, and it's hard to gain a clever and transparent overview of all of the tasks and activities in your organisation when they are not collated in a single view. The good news is that you can integrate most (if not all) of these systems with your HubSpot CRM solution.
API Integration connects two or more applications via application programming interfaces (API) so that they can exchange data. This keeps all of your information in sync and increases productivity and cooperation within the business.
Some integrations are straightforward, but most require extensive IT development work and considerable technical knowledge. A failed integration can wreak havoc on your system, which is why it's best left to up the experts. ConnectIn Digital can help.
We are a Platinum-certified HubSpot Partner that assists clients around the world with their HubSpot management and integration requirements. ConnectIn Digital can help you integrate new and existing software solutions with HubSpot to create the best possible digital environment and toolset for your business.
Why choose us for your Custom HubSpot API Integration?
ConnectIn Digital are the leading HubSpot specialist in UAE and Gulf Region. We've spent years perfecting our HubSpot knowledge and abilities so that every consultant is Hubspot Certified and highly experienced in-field. We've implemented tens of successful HubSpot integrations across multiple organisations, industries and even countries. We also offer in-house support and management over your HubSpot solution and integrations so that you and your team can get the most out of your digital investment. Get the most from your data sources through HubSpot API integration. We'll take care of the tech and help you get started right away.
1. Enjoy Greater Insight
You can also integrate with existing sales tools in order to shorten your sales cycle, keep your pipeline in check, and close deals faster with more data at your disposal. By syncing your systems, you'll always have trustworthy and up-to-date information at your fingertips so that you gain real insight into your customer life cycle. Improve retention, marketing and sales activities with a HubSpot API integration.
2. Improve Cross-Functional Communication
Integrating your Hubspot CRM system with your existing software tools will improve and enhance communication between your sales, marketing and support staff. Syncing data provides visibility into all stages of the business. Teams can gain insight into won deals for more streamlined invoicing and onboarding processes, which will cut down on time-consuming communication errors and manual inputs.
You'll have a seamless connection between planning, reporting, management and billing and invoicing systems - and more! Better communication between teams means better communication with clients…which means better customer service and satisfaction. And that means greater revenue, more referrals and better retention in the long run.
3. Simplify Your Operations
Through ConnectedIn's Hubspot API integration, you can collaborate with your entire organisation from a single intuitive platform. Your entire business will stay in touch and keep abreast of updates without relying on emails or messages that get missed or misunderstood. Integrate with existing tools like Slack, Teamwork, Monday.com or custom APIs built for your business.
Share documents and collaborate on files, or move important data straight from HubSpot into your project management tools. No more manually copying or collaborating across dozens of systems - simplify your business by bringing your HubSpot data into the fold with ConnectIn Digital.
FAQ
Frequently Asked Questions
HubSpot does have more than 1000 connectors that can be accessed. Some integrations are free while others are paid. These integrations come with certain features that may not be helpful for your business or unique requirements. If you need custom API Integration, you need to hire an experienced agency like ConnectIn that is capable of handling it for you. Your in-house IT department may not have the expertise to successfully integrate your software with HubSpot.
It's very likely that you can, provided that the software has an open API or if it's already supported through the HubSpot Marketplace. We can develop an API for virtually any solution.
It depends on the complexity of the solution as well as the data hosted in the solution. Integration can take anywhere from a few hours to a few weeks. Using a HubSpot certified consultancy firm can reduce the integration time considerably.
Yes, absolutely. HubSpot itself is ISO 27001 and SOC 2 compliant. Access to systems and infrastructure can be restricted and regulated as required. If you use ConnectedIn, we'll make sure that integration is handled in a secure and compliant manner.
Book Your Free Consultation Session
Would you like to know more about our HubSpot API Integration services?