What is Inbound Marketing and HYyou?
Inbound marketing is a great way to bring new customers in through your doors by increasing your brand's credibility, trust, and visibility, allowing you to target more of your audience and convert more leads into customers. It's all about creating targeted content that interests potential customers and drawing them in through social media, search engines, and other online channels.
One of the tricky things about inbound marketing is its continuous process. You create content and put it out there, and then you continue to monitor and tweak your efforts as you go. So you never really stop inbound marketing; you keep refining your strategy to make sure you're targeting the correct people with the right message, which means there's always a lot of work to do.
It takes time and effort to get it right.
Inbound Marketing can help your business generate new qualified leads your marketing team can nurture and convert into paying customers. Inbound tactics like Search Engine Optimisation (SEO), Social Media marketing, and blogging help websites boost their traffic by offering high-value content and powerful call-to-action prompts, turning visitors into leads in the UAE and the middle-east region.
What's more, with inbound Marketing, you can identify the right kinds of consumers, how much they are worth to your business, as well as what types of questions they need to answer when they're looking for a product or a service. This makes your salespersons' lives easier, increasing productivity and efficiency.
But, inbound marketing is more than just boosting a website's traffic. Instead, it helps companies plan and organises strategies to attract the right customers. For example, they might include answering questions and offering value by writing original content that people can find in search engines, such as Google, or Bing.
To sum up, think of it like this: Inbound marketing helps you build your brand, identify a niche market and target audience, and have greater visibility into what's going well and what doesn't.
What Are the 4 Stages of Inbound Marketing?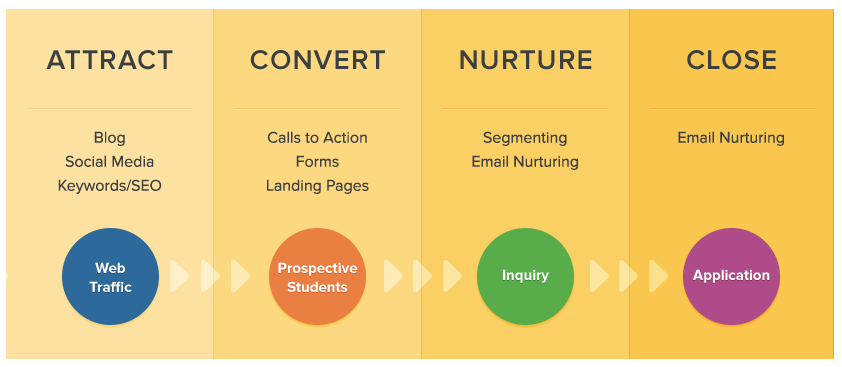 But, what exactly is the methodology behind Inbound Marketing?
Regardless of your brand, target audience, or the industry, you're active in, inbound marketing consists of four basic stages. These are:
Attract: To attract prospective customers, you need to provide valuable and helpful content optimised for the terms and keywords your target audience is searching for on search engines (i.e., user intent and search queries).


Convert: By using actionable language and call-to-action prompts, you have a higher chance of converting readers into leads and paying customers. This usually happens when a prospect gives you permission to record their email address or, perhaps, other contact information for something valuable you can provide, like a free eBook, a PDF guide, or a webinar.


Close: This is the stage where you turn the leads into customers by nurturing them through email marketing, valuable content, and calls to action.


Delight: Last but not least, the "delight" stage is about what it sounds like: You have to make new customers promoters of your brand by going above and beyond their expectations. Just make sure your customers' experience with your brand is so good that they'll want to recommend you to other people.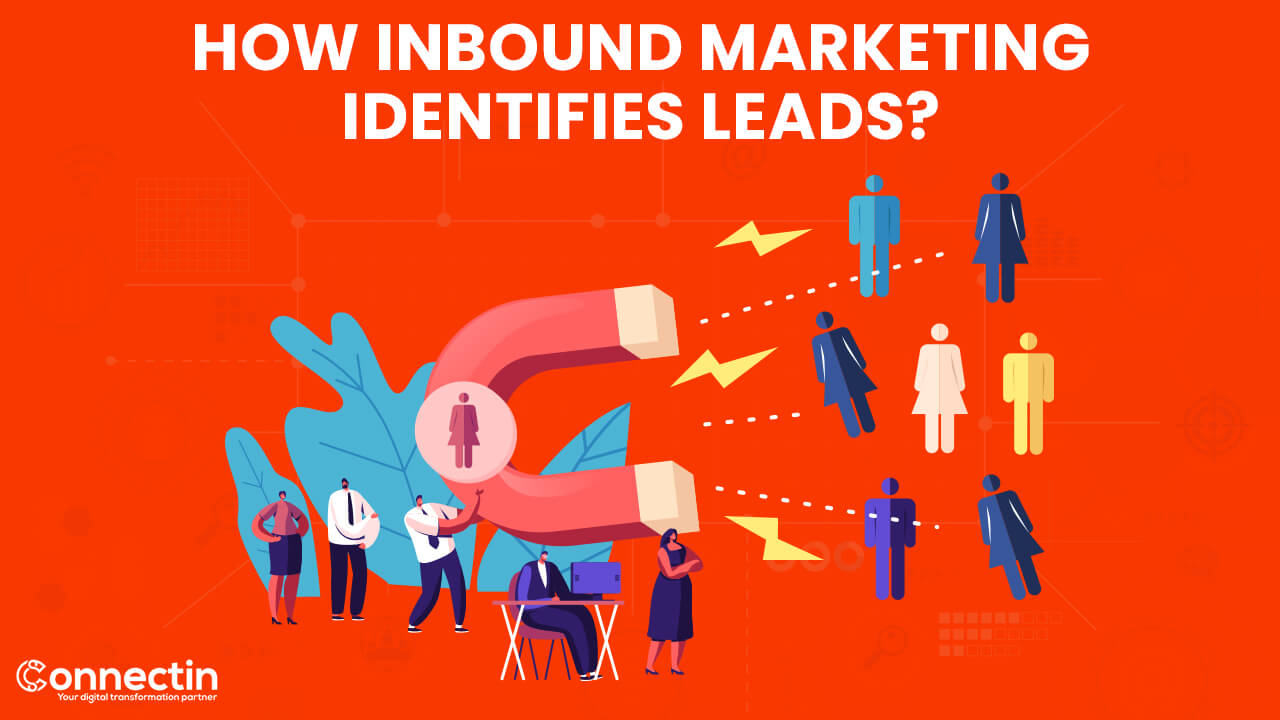 How Inbound Marketing Identifies Leads?
When you implement inbound marketing correctly, you can get a clear picture of where your leads come from and how much it costs to acquire them in the first place. As previously mentioned, inbound marketing in UAE and middle-east helps attract more visitors to your company's website and increase conversions.
But, what about those visitors who aren't ready to convert or those who cannot be considered best-fit prospects? Sales teams can filter strong prospects from casual searches thanks to qualifying offers, like a form submission. Qualifying offers use permission marketing, meaning that when a person gives you their permission to access their personal data, such as when filling out a form, your website becomes a lead-generation tool, as marketers put it. This way, it separates real prospects and real prospective buyers from unqualified leads and casual searchers.
Yet, there's another element of inbound marketing that lets businesses identify good prospects based on how they've interacted with your website or marketing efforts: Lead scoring.
Lead scoring assigns point values for prospects based on criteria, like job title, budget, email click-throughs, location, content downloads, and company name. So, by creating an automatic lead scoring system, your marketing automation tools establish a sales funnel that filters website visitors into casual searchers, prospects, and hot leads ready to convert.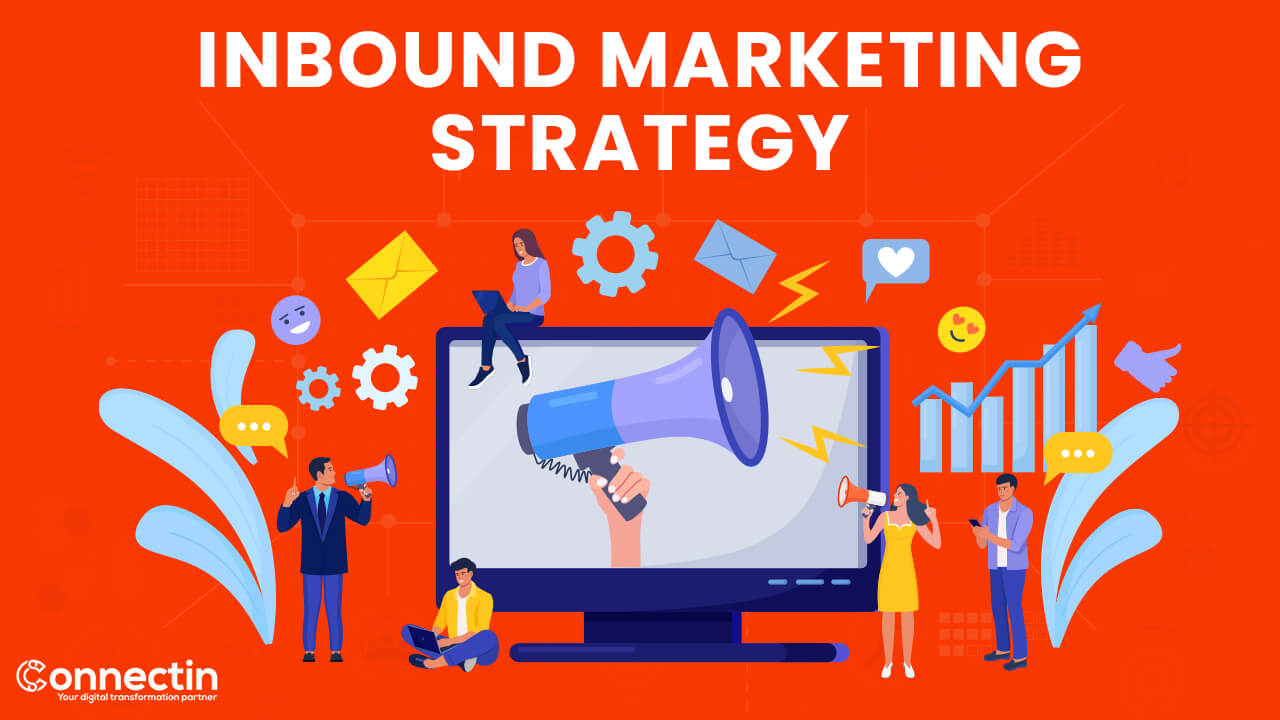 Why should you choose ConnectIn Digital for your Inbound Marketing Strategy?
There are several reasons why you might want to choose ConnectIn Digital to help with your Inbound Marketing in Dubai, UAE. We understand how to create original content that will interest potential customers and draw them into your business by constructing the right message.
We have a team of inbound marketing and digital marketing experts in Dubai who can help you target the right people as quickly as possible. So even if you're a new business in the space, we'll have you pumping out better content than your competitors in no time.
Lastly, we're constantly refining our strategy to make sure we're reaching the right people with the right content. ConnectIn Digital is the right choice if you're looking for the right people to carry out your inbound marketing strategy in the middle-east region.
Let's see how ConnectIn Digital can use Inbound Marketing to grow your business in the middle-east.
1. Leads Generation
Lead generation is one of the essential aspects of inbound marketing, and it's something that businesses of all sizes need to focus on. To attract more customers, you need to generate leads and convert them into paying customers.
There are several ways to generate leads, and the best way to do it will vary from business to business.
One example of generating leads through inbound marketing is social media. You can use social media to connect with potential customers and draw them in through content that interests them. You can also use your favourite social channels to build relationships with potential customers and encourage them to become leads.
2. Create Trust and Credibility Around Your Brand
Higher trust and credibility are two essential factors in any business, and they are significant in the online world.
But, how do you create trust and credibility with your target audience?
There are a few ways, but one of the best is creating quality content relevant to your target audience. When you produce valuable and exciting content, you will earn the trust and credibility of your audience. They will know that you are an authority in your field, and they will be more likely to do business with you.
Creating good content is no easy feat, but it is worth the effort.
3. Increase the Visibility of Your Business
Inbound marketing is a great way to create visibility for your business organically. Using inbound marketing techniques, you can reach a larger audience by gaining visibility on search engines and social media. Inbound marketing is also a great way to connect with potential customers and build relationships.
FAQ
Frequently Asked Questions
The best way to start inbound marketing is to create a content strategy. This plan outlines your content goals and how you will achieve them. When you have a content strategy, you will know what content you need to produce and have a roadmap for publishing it.
If you want to get started with inbound marketing, the best thing to do is to contact ConnectIn so we can work with you to get the results you're looking for.
It depends on what you're looking to achieve.
There are cost-effective strategies like content marketing and social media marketing that can help grow your business. If you've got more of a budget to work with, you could use Paid Ads campaigns to give your revenue a quick boost.
Inbound marketing is the marketing strategy that draws in qualified leads and prospects ready to convert. Content marketing is a form of inbound marketing. It's considered one of the most crucial inbound marketing tactics and lays the foundation for inbound marketing as a whole. In other words, without proper content marketing, inbound marketing cannot exist.
Inbound marketing focuses on building content and websites in such a way as to encourage readers to perform an action, like buying a product (i.e., convert), inquire, or complete a form. On the contrary, content marketing focuses on creating and distributing content throughout multiple channels.
That said, keep in mind that if your content is not valuable, relevant, and helpful, readers won't convert.
Book Your Free Consultation Session
Would you like to know what our Inbound Marketing Strategies can do for you and your company?